Structural & Integrity Testing
At Lucideon, we test individual structural components or full-scale reconstructions / simulations in our laboratories to ensure their structural and durability performance.
We apply static and dynamic loads on vertical or horizontal elements to either serviceability load or to system failure. And we assess the short-term effects of loading on the composite construction or the longer-term effects of dead and imposed loads.
Strain and movement can be monitored using deflection and strain gauges as well as digital image correlation (DIC) to allow the strain development within the sample to be mapped during the load application.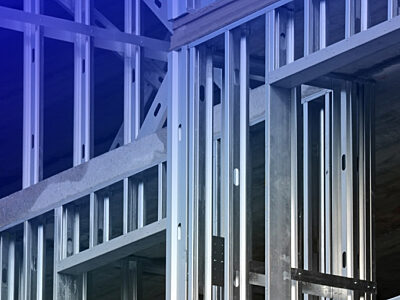 We also subject samples to extreme environmental conditions including heat, rain, freezing temperatures, and wind-driven rain. Our experts test both components and full systems to current standards to ensure compliance with construction products regulations. We also develop detailed test programs for anything that falls outside of recognized standards, ensuring that non-standard and standard systems are fit for use in the environment they are intended to be used.
Frost resistance testing
Accelerated testing for frost resistance: Lucideon has been developing and operating accelerated freeze/thaw tests for over 45 years. These have been accepted as industry standards for clay-based products and have proved to be equally useful for testing other materials and assessing their performance in severe freeze/thaw conditions.
The current tests for masonry walling, roof tiles and pavers are UKAS accredited (testing laboratory No. 0013) and have been validated against natural conditions. The tests are accepted by BSI and form the basis for the European standards for frost resistance of masonry units, pavers and roofing tiles made from clay, concrete, natural stone, or reconstituted stone.
Balustrade testing
At Lucideon, we test balustrades both in the laboratory and on-site to assess the on-going safety and performance of existing in-situ systems. We provide testing for the following European and USA standards:
BS 6180: 2011 - Barriers in and about buildings code of practice
ASTM E2358-17 - Standard Specification for Performance of Glazing in Permanent Railing Systems, Guards, and Balustrades
ASTM E2353-16 - Standard test methods for performance of glass in permanent glass railing system, guards and balustrades
ASTM E935 - Test methods for performance of permanent metal railing systems and rails for buildings
UNI 10806 (Italian) - Prefabricated railing systems - determination of the mechanical strength under distributed static loads
DIN 18008-4 (German) - Crash-proof glazing
In addition to balustrades, we also provide testing of staircases, balconies, handrails and Glass-reinforced Plastic (GRP) products – canopies, chimneys, and dormer windows.
Hygrothermal performance testing
Lucideon has the UK's largest hygrothermal testing chambers, performing hygrothermal performance testing of external thermal insulation composite systems (ETICS) to EADs 040083-00-0404 and 040287-00-0404, CWCT Standards, M.O.A.T. 22 & Customized Programs.
The external walls of buildings are exposed to a wide range of weather conditions, including: wetting and drying, heating and cooling, freezing and thawing, to name but a few. To ensure External Thermal Insulation Composite Systems (ETICS) perform satisfactorily, and to predict their expected design life, sample panels must be subjected to accelerated testing.
Customized test program for a novel EWI system
The customised test program carried out by Lucideon enabled Mauer to achieve third party certification and for their product to enter the market quickly.