MIDAR® Geopolymer Technology
Lucideon's MIDAR® technology brings together a unique blend of materials science, formulation technologies, and people expertise, to provide optimally performing alkali-activated geopolymer and non-sintered ceramics solutions across a range of applications.
The technology uses a low temperature chemical reaction to consolidate a material and form a robust body with high strength and chemical stability.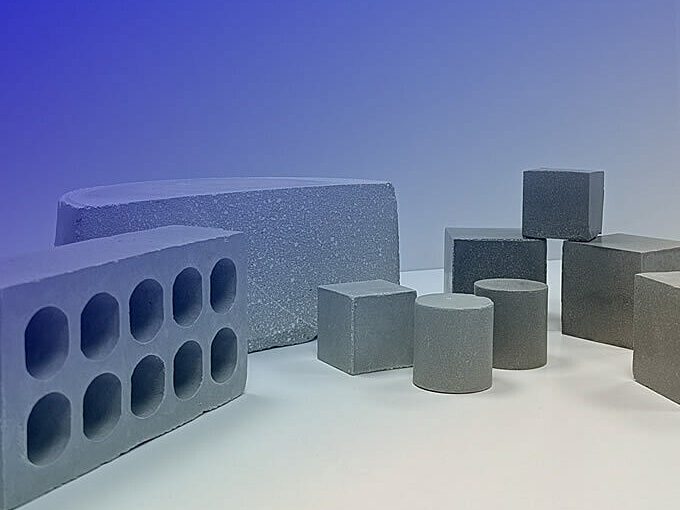 As the technology is based on a chemical reaction, no sintering is required. This reduces energy usage and carbon emissions. The resulting material can be fire-, frost-, chemical-, shock-, water-, and heat-resistant with negligible shrinkage. The process can be tailored to suit system needs through choice of material, making this technology versatile and beneficial to various applications. For example, it can be used for encapsulating intermediate level waste, materials in harsh environments, and In-Situ Resource Utilisation (ISRU) for the space sector.
Our capabilities
Combining the understanding of all steps in material development requires considerable scientific resource and expert knowledge, especially at commercially viable cost points. Embodied in our MIDAR® technology, we bring together the capability and expertise rarely found in one company: materials science skills, formulation knowledge, and testing know-how. The capabilities, expertise, and services of Lucideon will continue to be in high demand as an ever more complex and uncertain world seeks to use its resources dependably and more sustainably.
MALLETTM
MALLETTM (MIDAR® - Augmented Lower-cost Lower-carbon Encapsulation Technique) is a new, lower cost, lower carbon technique for encapsulating intermediate level waste.
Together, NUVIA UK and Lucideon have developed MALLETTM, to enable nuclear waste owners to process waste oils, graphite, zeolites, sludges, and ashes into a passive waste matrix that maximises waste loading and reduces overall waste disposal volumes. MALLETTM has the potential to revolutionise nuclear waste disposal - there are no other waste solutions of this type available in the marketplace.
MIDAR® composites
MIDAR® Geopolymer Matrix Composite (MIDAR® GMC) bridges the temperature performance gap between reinforced polymers and ceramic matrix composites (CMCs). In high temperature environments where reinforced polymers would fail and need to be replaced with metals, MIDAR® GMCs offer a lightweight alternative suitable for service temperatures up to 1000°C whilst providing higher durability. Using a range of materials, it can be tailored to the client's needs; from structural, to high temperature, to thermal shock resistant or other harsh environmental applications.