Offsite & Modular Buildings
Are you developing a modular system? We can help you to understand the structural performance of both the individual components that make up the building superstructure and the full system.
Our experts will design a test program to provide load span performance of all the individual elements (walls, floors, and roofs) giving performance data over the full range of the product. This can include different spans, different thickness of panel incorporating a range of inner and outer skins, as well as varying insulation types and panel widths.
We provide laboratory testing for individual wall, floor, and roof panels, as well as for entire building panels, to assess structural integrity in relation to wind loading, racking ability and compressive loads.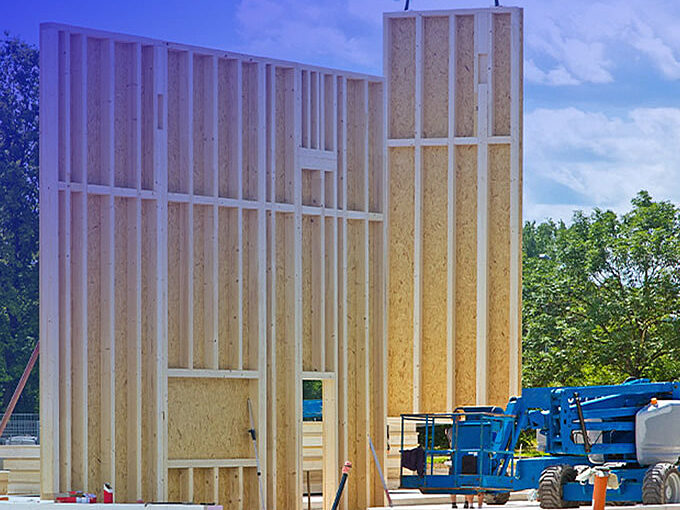 We also assess the thermal, acoustic, air leakage and durability characteristics of full systems and develop customised test programs for innovative systems. You can then supply information to system specifiers, end users and certification providers, ensuring the panel is acceptable for use in real applications.
We help you at all stages of the design and construction process for offsite and modular buildings, from materials selection and manufacturing, to installation, durability assessment and verification. Our integrated solutions combine multiple disciplines to create a comprehensive and unified solution.
Structural verification of systems
We carry out analysis of your system at the development stage in our laboratories to prove that the building should work if installed and produced in accordance with the manufacturers' specifications.
This proof of performance will allow you to get third party insurer sign off, whether for a new-build, traditional-build, or non-traditional construction.
Our tests help to minimise failures on-site that may occur if there has been some deviation either at the production or installation stage.
We can also provide structural verification of the installed building to achieve final sign-off.
We offer in-situ testing to assess:
installations
performance under wind loading and impact shock
air leakage
thermal performance
acoustic performance
In addition, we provide hose testing of penetrations, including window and door reveals. These tests enable easier sign-off for building regulations and guarantee providers.
Structural verification of panels - Structural Insulated Panels (SIPs)
We test SIPs when used in load bearing wall, floor, and roof applications, and when used as infill panels. Testing can be carried out in our laboratories, or the system can be proved onsite; we are able to design customised programs to evaluate the structural, thermal, acoustic and fire performance of individual panels and full systems.
With over 20 years' experience of testing SIPs, we also provide consultancy during the design process. We assess the most critical test for a system and conduct that test first to enable us to advise on possible improvements before investing in the full test program.
Customised test program for a novel EWI system
The customised test program carried out by Lucideon enabled Mauer to achieve third party certification and for their product to enter the market quickly. Watch the video here: