Flash Sintering
Sintering is an essential step in the production of ceramics, traditionally requiring long times and high temperatures to rigidify or densify porous ceramic bodies.
Flash Sintering (FS), also known as Field-Enhanced Sintering (FES), is the application of a direct electrical field via customised electrodes to a material body during the sintering process. FS accomplishes its remarkable heating rate by dissipating heat directly inside the ceramic. This reduces the processing time and furnace temperatures from those required by conventional sintering, increasing throughput and productivity. When implemented properly, flash sintering also enables a high degree of microstructural control, which can positively influence the performance of ceramic components.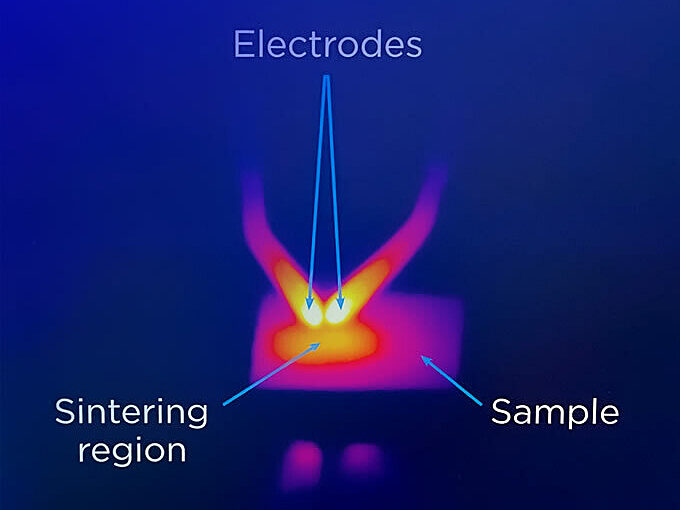 Since manufacturing cost reduction and energy efficiency are key priorities for many industries, we aim to improve your competitive advantage and profitability by using this technology.
Our capabilities
Lucideon is the only facility in the world to have the capability for FS technology development and demonstration at the pilot line scale. At the core of our flash sintering advancements lies a variety of electrode interfaces, and a proprietary, real-time software which, using 18 different field variables, opens up a broad range of control parameters including:
frequencies ranging from DC to GHz
rates of change of current, voltage or power
pulsed energy discharge
Within the flash sintering of ceramics, introducing these controls has enabled our team to produce fully dense ceramics repeatably and homogeneously on a wide range of ceramic material types and geometries.
Flash Sintering facilities at Lucideon
We have a huge variety of specially constructed kilns for Research and Development of FS in its journey to manufacturing, including:
Contactless Flash Sintering Lab
Flash Sintering Lab
Flash Bonding
Hybrid Sintering (Cold/Flash)
Functionality includes atmosphere control, vacuum, dilatometry, and "in air" for a variety of customised electrode designs.
Applications of Flash Sintering
Environmental Barrier Coatings (EBCs)
Sintering of nuclear fuels and fuel immobilisation – TRISO / Advanced Reactor Fuel / D-MOX (mixed oxide for disposal))
Solid Oxide Fuel Cells (SOFC) and solid-state electrolytes
Armour
Joining dissimilar materials
Biomaterials
Memorandum of understanding with National Nuclear Lab (NNL)
A novel flash sintering technology has been successfully demonstrated for the sintering of large diameter uranium dioxide (UO2) pellets to high density and with homogeneous microstructures. This study, performed as a collaboration between NNL, Lucideon, University of Manchester, and Orano, has shown the potential to increase production throughputs by over 70% for the NDA's disposal MOX concept. The industrial scale-up of this technology with reduced energy consumption and shorter sintering cycles has been envisioned.