Aircraft & Engines
The wide-ranging knowledge at Lucideon can be applied to all aspects of an aircraft, including its airframe and the engines. As a trusted partner, we offer a range of consultancy and analytical capabilities covering titanium and aluminium structures, ceramics, and polymers, as well as development and optimisation of products and processes and failure analysis. This enables clients to gain a complete understanding of the properties and behaviours of their materials.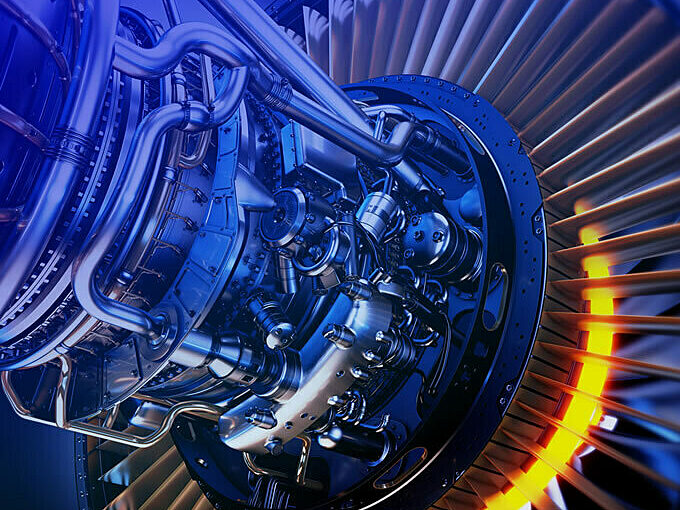 Ambient and high temperature mechanical testing
Understanding the performance of materials and components in ambient and elevated temperature environments is a standard and essential part of any design and manufacturing process. Our knowledge and experience conducting ambient and high temperature mechanical testing enables us to characterise the properties of materials and provide validation for final products. Our capabilities range from sub-ambient (-130°C) to high temperature (1650°C). Some of our testing services include creep, bend strength, coating bond strength, stress rupture, and shock testing.
Safety is a critical factor within the aerospace industry which is why our testing simulates complex real-life loading scenarios. Our years of expertise, partnered with state-of-the-art ISO 17025 and Nadcap-compliant facilities, enables us test materials under standard and product-specific loading configurations.
Metallurgical evaluation
Specimens are extracted and prepared for testing and analysis in our in-house machine shop, reducing turnaround times and increasing specimen traceability. Our skilled metallurgists utilise techniques ranging from optical microscopy and SEM-EDS analysis to our state-of-the-art electron microprobe and advanced surface analysis techniques, to obtain qualitative and quantitative information about the characteristics of a material or a failure.
We also have Electrical Discharge Machining (EDM) capability. This is a common technique used in manufacturing when high accuracy and complex geometries in a part are needed. Performance of the electrical discharge machining process and characterisation of process parameters can be evaluated by metallographically preparing cross-sections of pieces, and may include examinations for cracks, presence of copper, thickness of recast layer, and presence of redeposited material.
Evaluation of these affected regions is an essential process in the risk mitigation of flight critical components.
Surface analysis
Lucideon's Burner Rig Test Facility is used for high temperature oxidation testing in order to evaluate the performance of gas turbine materials in an oxidising environment. Small-scale samples of high-temperature coatings and substrates can be subjected to long-term exposures up to 1150°C, providing a cost-effective alternative to full-scale testing for materials screening and development. Lucideon also has equipment for high temperature erosion testing facilities which can be utilised to simulate hot erosion.
Our experts provide complete metallographic preparation and metallurgical evaluation services for post-test analysis of coating and substrate performance.
Gleeble testing
The Gleeble testing service, based in Raleigh NC, is a unique research platform that simulates the high temperature processes and applications necessary for developing new alloys and manufacturing processes. Access to Gleeble testing creates a competitive advantage for organisations that produce or rely on high performance metals.
Gleeble data allows researchers to improve material performance, optimise processes, minimise failures, and accelerate R&D efforts. With this capability, Lucideon is the first ISO 17025-accredited commercial laboratory for Gleeble testing services in North America.