Mechanical Testing
Lucideon offers a broad range of mechanical testing capabilities to determine or verify the physical properties of nearly any material that performs under a mechanical stress. Ensuring quality of raw materials to end products, using ASTM and custom testing methods, we test the elastic and inelastic behaviour of a material when force is applied, under test conditions ranging from highly elevated to sub-ambient temperatures.
The mechanical properties of a material directly influence its performance in the operational environment, for example, fasteners and welds that tend to fold or flex in end of service life might be prone to bending in use. Fastening products in particular are subjected to physical forces that can cause deformation. We use the information about the forces applied, and the deformation incurred, to help you improve the performance of your product.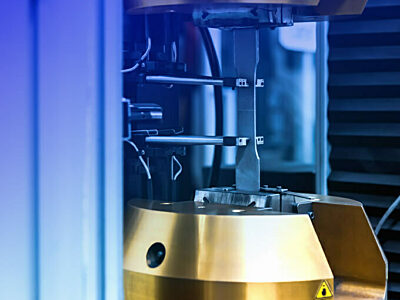 Lucideon can bend, twist, pull, and compress at microscale and macroscale until failure occurs. We both routinely perform and engineer customised testing regimes on a wide range of materials including metals, plastics, and composites. We also offer superior specimen machining and sample preparation services.
Examples of tests performed
Bend testing
Charpy impact
Coating bond strength
Compression
Deformation
Flexural strength
Gardner impact
Hardness (Brinell, Knoop, Rockwell, Shore, Vickers)
Peel testing
Shear strength
Tensile strength
Thermomechanical Fatigue (TMF)
Typical applications
Determining the strength of weld joints
QC of additively manufactured parts
Replacement of materials due to REACH requirements
Selecting materials for usage in high pressure environments
Simulation of aircraft engine operating conditions
Testing the strength of bio adhesives
Testing medical implants
Turbine blade alloy assessment
Verifying a change in raw material supplier