Petrographic Analysis
Petrographic analysis is a diagnostic tool for examining failures in concrete. Lucideon performs petrographic analysis to evaluate the integrity of concrete and understand the mineralogy of materials. These capabilities are available from both the US and UK laboratories at Lucideon.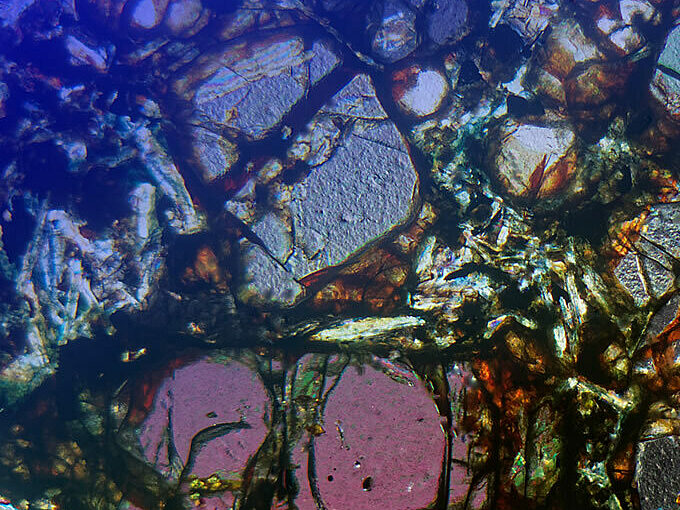 This capability is carried out in accordance with both European and American standards:
BS 1881-211:2016
ASTM C295
ASTM C856
ASTM C457
The test methods performed are:
Petrographic Examination of Hardened Concrete (ASTM C856/ BS 1881-211:2016)
Air Void Analysis in Hardened Concrete (ASTM C457)
FTIR Analysis
Petrographic Analysis of Natural Stone (BS EN 12407)
Petrographic Analysis of Agglomerated Stone (BS EN 14618)
Petrographic Analysis of Natural Stone Tiles (BS EN 12057)
Petrographic Analysis of Slate and Roofing Tiles (BS EN 12326-2)
Petrographic analysis can be used for different applications. Here at Lucideon, our specialties for this capability lie within energy (nuclear and wind turbines) and construction.
Nuclear industry
Embodied in our petrographic analysis facilities, we bring together the capability and expertise rarely found in one company: materials science skills, analysis knowledge, and testing know-how. Ensuring the integrity of concrete used in support and containment systems is crucial. We evaluate and assess the condition of concrete cores from equipment bases, roads, support columns, cooling towers, and containment areas.
» Read about our consultancy services for the nuclear industry
Wind turbines
The foundation support of a wind turbine is an application-critical factor often overlooked or under-valued. Lucideon evaluates the quality of workmanship and materials in installed concrete support and containment systems, such as wind turbine bases, piers, roads, support columns, and containment areas.
Construction
Benefits of petrographic examination for construction include:
Revealing the root cause(s) from low compressive strength to surface scaling to concrete degradation
Determining the present condition of previously-placed concrete so that the decision to re-use or replace can be decided
Defining cracks by type and uncovering crack mechanisms
Effects of chemical attack (including chlorides)
Assessing the entrained air content
Assessing fire damage