Pharmaceutical Quality Control Testing
Lucideon's pharmaceutical quality control testing and validation laboratories are fitted with state-of-the-art analytical equipment and testing facilities.
Our team of highly qualified and experienced technical staff will work with you to develop and deliver testing and analytical solutions to add value to your product or project.
With analytical and method development capabilities supporting our quality control facilities, you can minimise disruption, transit times, and costs with a provider you can trust. This is what sets us apart from other test houses - we don't just provide the numbers, pass or fail. We'll work to understand the results, and if they do not meet your quality criteria, we'll help with troubleshooting to ensure they will.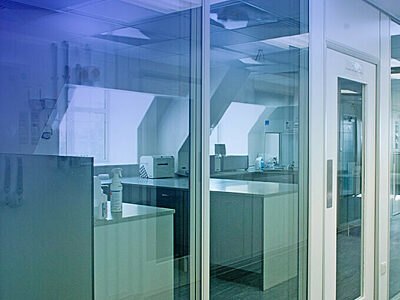 Stability storage testing
Stability of pharmaceuticals in storage is extremely important for maintaining their functionality. At Lucideon, we test your products for storage in a range of humidity and temperature conditions. We perform accelerated ageing to simulate how your products will perform over an extended period, so you get your results quickly and go to market with confidence.
Our experienced staff aid with study design, planning, and management of stability storage testing, including stability storage methods, retest intervals, and shelf lives.
Capabilities
testing to cGMP
testing for schedule I-V controlled drugs
temperature and humidity testing
testing for climatic zones I-IV
analytical support capabilities, e.g. testing for leachables
ICH guideline compliance
Our stability storage walk-in chambers are monitored 24/7/365 and have built-in safeguards to give you peace of mind. Additional stand-alone cabinets enable us to offer alternative parameters including refrigerated, frozen, and client-defined storage conditions.
The standard ICH conditions are:
25°C/60%RH - real time storage condition
30°C/65%RH - intermediate storage condition
40°C/75%RH - accelerated storage condition
Accreditation
In the UK, Lucideon is a UKAS-accredited testing laboratory (No. 0013) and our pharmaceutical/GMP laboratories hold an MHRA certificate of GMP compliance (No. UK GMP 43644 Insp GMP/IMP 43644/10698843-0005, Dated:28/07/2020) for contract QC resting of human and veterinary medicines. The Lucideon pharmaceutical/GMP laboratories also hold a current FDA certificate of registration and were successfully inspected by FDA in September 2019.
In the US, Lucideon is Nadcap-accredited and has 10 CFR 50 Appendix B Quality Assurance accreditation.
Product validation
Our complete product validation service is supported by a wide range of analytical capabilities, including advanced surface analysis and expert knowledge. Lucideon offers you:
patent infringement support - providing independent analysis
cleaning validation – ensure your product meets the strict cleanliness requirements using our cleaning validation service, VALIDATA
counterfeit drug detection – quick and effective detection using surface analysis techniques
We are also licensed to handle restricted products. Further details can be provided if required.
Further information regarding our complete testing suite can be found on our microbiology and chemistry pages.