Refractory Materials Testing
As a UKAS ISO 17025:2017 accredited testing laboratory (No. 0013), Lucideon provides a comprehensive refractories testing service to national standards (BS, ASTM), international standards (ISO), and our own in-house UKAS-accredited standards.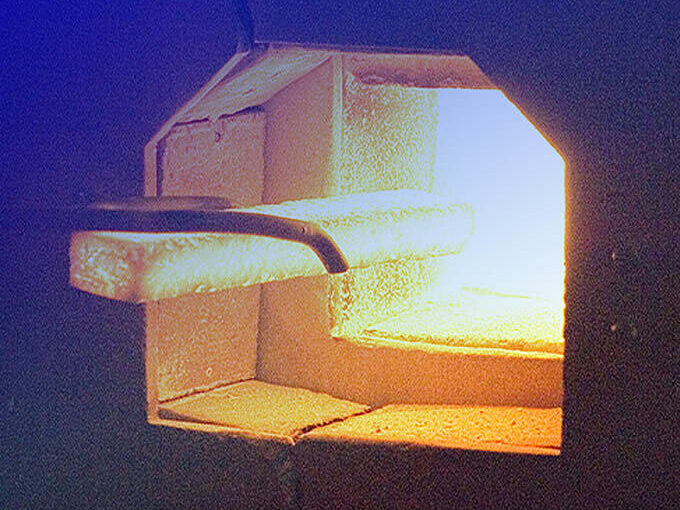 We offer a wide range of physical, chemical, mineralogical, and thermomechanical testing for:
Quality control
Quality assurance
Failure analysis
Tendering support
Creation of datasheets
Mathematical modelling.
We can inspect and sample refractory materials onsite or before shipment to ensure materials are suitable for use and to avoid costly delays.
Examples of tests performed
Listed below is a selection of the tests and industry-specific testing suites available - the list is by no means exhaustive; please discuss your requirements with our technical sales staff:
Physical:
Modulus of elasticity, rigidity and Poisson's ratio
Hydrogen diffusivity
Abrasion resistance
Density and porosity
Pyrometric Cone Equivalent (PCE)
Particle Size Determination (PSD)
Cold crushing strength
Modulus of rupture
Porosimetry.
Chemical:
XRF (X-Ray Fluorescence)
XRD (X-Ray Diffraction).
Thermomechanical:
Compressive stress/strain up to 1,550°C
Flexural stress/strain up to 1,550°C
Thermal conductivity
Thermal shock resistance
Creep in compression up to 1,550°C
Work of fracture
Thermal expansion up to 1,600°C
Specific heat
Refractoriness under Load (RUL)
Permanent Linear Change (PLC)
Modelling:
Thermal profiling and heat loss of complex shaped components and structures
Improved design of components such as linings and anchor systems
Prediction of in-service stress distributions and potential overloads before scale-up
Prediction of material performance in various applications under a range of operating conditions
Microstructural evaluation
Optical microscopy
SEM/EDA (Scanning Electron Microscopy/Energy Dispersive Analysis)
We also offer consultancy to help you optimise product and process performance and solve failures.