You are here: Home » Testing & Characterization » Surface Analysis » Coating Failures
Coating Failures
When coatings fail it can at best lead to cosmetic problems and at worst lead to product failure. Ensuring the cause of the failure is identified is essential in correcting the problem. 
Sensitive surface and depth profiling techniques such as XPS, SIMS and SEM can be utilised to investigate failures including:
Migration of species from layer-to-layer in a multi-layer coating
Delaminations
Disbondments
Surface defects
Contamination
Staining.

Case Study:
Construction Coating Failure
Coating failures on steel and concrete construction materials occur quite frequently and often at considerable cost in remedial action, lost business and reputation. Surface analysis methods can offer a direct evaluation of samples and, along with expert opinion, determine the origins of the failure which could occur in any of the following areas:
Substrate condition
Coating materials (including additives)
Coating application conditions.
In this case study, a top-coat disbondment has occurred from the red primer layer on steel bridge girders used in motorway construction. The photographs show the construction site and close up views of the underside of a girder with catastrophic delamination of the gray top-coat from the red primer layer.
ToFSIMS detected that an amine additive migrated from the tie layer to internal interfaces forming a waxy overlayer ("bloom"). This weak interlayer caused subsequent coating disbondment. The spectra obtained confirmed the amine additive presence on a paint flake from the primer side of the failure.
The cause of coating failure in this case was incompatibility between the hardener and the moisture in the environment during the curing process.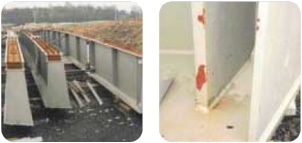 Case Study:
Crater Defects in Lacquer and Paint Coatings
Craters were visible in a melamine-based lacquer coating on a metallised foil. ToF-SIMS was used to analyse a crater with reference to non-cratered lacquer material. The results revealed high levels of caprylate and caprate-based esters of glycerol within the crater. Diagnostic signals for this material include m/z 127+/155+ (CnH2n+1CO+) and m/z 327+/355+/383+ (CnH2n+1C(=O)O-CH2-CH[O(O=C)CnH2n+1]-CH2+) (where n is a mixture of 7 and 9), readily identifiable using the molecular specificity of ToF-SIMS. Glyceride esters can be used in lubricant formulations and the source of this contamination was the coating equipment. Craters and other defects have also been observed in automotive coatings, illustrating the necessity for stringent cleanliness specifications during the painting process. ToF-SIMS is used routinely to investigate these.
ToF-SIMS data, acquired within a crater in an automotive coating, showed that a fluorocarbon contaminant had caused localised de-wetting of the surface during paint application, resulting in crater formation.
The two-color overlay ToF-SIMS image (below) shows an intense fluorine signal in the de-wetted area (cyan), associated with the fluorocarbon contaminant. Organic species from the paint layer are shown in red.


Case Study:
Failure of Beverage Can Coatings
SIMS depth profiling was used to study the failure of beverage can coatings on long term shelf storage. The locus of failure was believed to have occurred at the lacquer coating / can wall interface with a suspected corrosion mechanism involved.
SIMS profiles through the lacquer coating and into the steel can substrate revealed the presence of high levels of chlorine at the lacquer/steel interface on cans with poor long-term performance (see below). In contrast, good cans had relatively low levels of chlorine present. In combination with other analyses, the results revealed a corrosion mechanism involving transport of chlorine to potential corrosion sites during storage.