The Advanced Ceramics Show was a fantastic opportunity to exhibit our latest projects and show off our new look
We exhibited at the Midlands Industrial Ceramics Group (MICG) pavilion during the two-day event, showing off our new stand graphics and screen – many thanks to Enya Collier, David Pearmain, Andrew Norwood, Gareth Jones, and Richard White for manning the stand.
As well as exhibiting, we also gave several presentations during the show.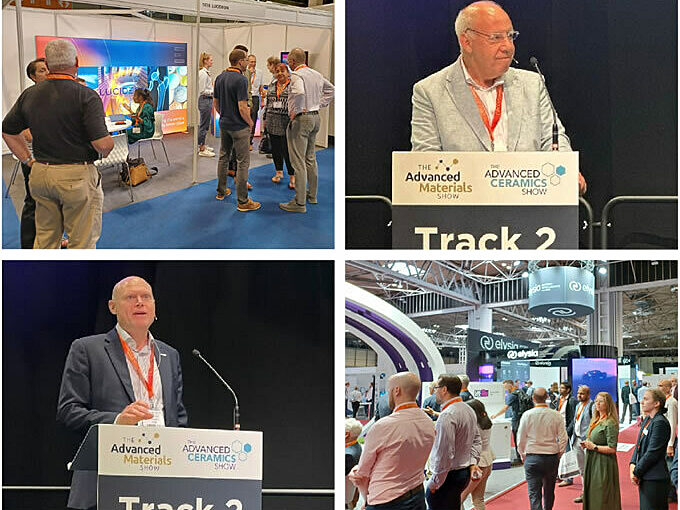 On day one, Richard Goodhead presented 'Achieving Net Zero with Advanced Ceramics' at the 'Moving Beyond the Easy Steps Towards Net Zero for Ceramics Manufacturing' slot, and our CEO Tony Kinsella chaired the 'The Latest Manufacturing Innovations for Advanced Ceramics' session. Being invited to chair discussions like this demonstrates Lucideon's reputation for advanced ceramics capability and expertise.
The second day saw Tony present 'Computational Materials Development - The Lucideon Journey So Far' at the 'How to Harness Digital Technology to Reduce Costs and Expedite Innovation' session. Lucideon's offering in this area falls under our IMPACTTM programme, which deploys computation technology to identify materials, reformulate existing products, and much more.
Across the hall at the co-located Battery Cells & Systems Expo, Gareth Jones gave a talk about our flash sintering participation in the Faraday Battery Challenge. We are exploring the use of our Flash technique to drastically reduce the manufacturing costs of solid-state batteries, which have been identified as a key technology to augment and replace lithium-ion technology.
Lucideon staff also supported The AMRICC Centre's stand in the MICG Pavilion, helping to bring attention to the fantastic new facilities available at the new site in Stone. Many thanks to all who helped with organising MICG activities, including the popular and successful poster competition!
Elliot Douse won first prize for his 'Development of Robocasting for Oxide/Non-Oxide Ceramics' poster in the 'Additive Manufacturing' theme, whilst Richard White took second prize for his 'Decarbonising Ceramics - Ceramic Production Using a 20% H2/ 80% Natural Gas Fuelled Kiln' poster in the 'Delivering Net Zero' theme. Congratulations to Elliot and Richard, and well done to all who entered!
Thanks to everyone involved in making our attendance such a great success, and we're looking forward to attending again next year.
July 2023