Lucideon is part of a new £900,000+ research project, led by KW Special Projects (KWSP) and funded by the UK's innovation agency Innovate UK, that is set to rethink the additive manufacture of ceramics
Called CerAMake, the project aims to exploit existing deposition technologies to provide improved properties via a scalable ceramic binder jetting platform. The outcome should bring significant competitive advantage to the UK's commercial pottery sector, refractory filter market and wider industry for additive manufactured ceramics.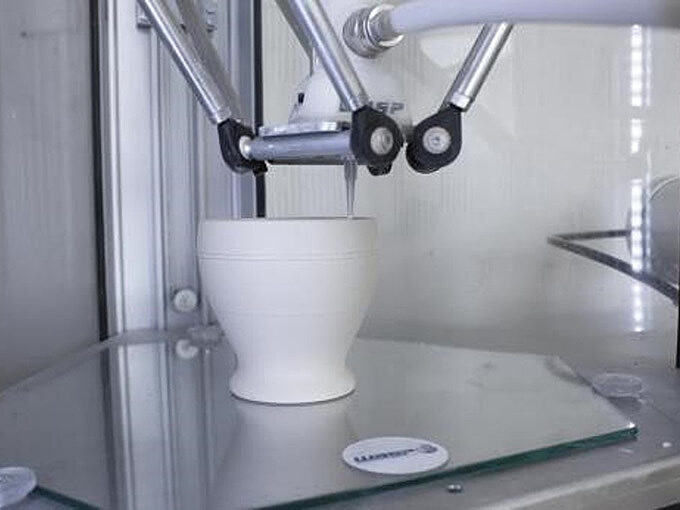 Adopting additive manufacturing (AM) techniques offers several benefits over many conventional production methods, including digital production flexibility, reduced material waste and greater design freedom. It also offers the potential to create complex parts without tooling and precise material control. However, at present the widespread adoption of ceramic AM technology is hindered by problems with material performance, process reliability and cost.
The CerAMake project will deliver by bringing together digital manufacturing specialist KW Special Projects, who will lead machine design, deposition technology integration and software/process control development; materials expert Lucideon, responsible for the formulation, characterisation and testing of materials and Xaar plc, world-leaders in the development of piezoelectric drop-on-demand inkjet technologies. Xaar will lead the printhead technology selection and development. Independent Research and Technology Organisation the Manufacturing Technology Centre (MTC) is also involved and will lead the manufacturing process development and testing.
The project is also fortunate to have three end-users within the consortium in Birmingham-based Precision Ceramics, CAT International and Emma Bridgewater, a highly respected, Stoke-based, traditional manufacturer of decorative and practical homewares. Together, they will help guide development of the technology into three key applications, as well as providing early routes to market.
CerAMake will apply advanced material characterisation and evaluation techniques, provided by Lucideon, to validate the suitability of the material throughout the process chain, providing a baseline chemistry applicable to a wide variety of ceramic materials. This will result in the first ceramic AM technology capable of achieving high density complex parts, at viable volumes, for multiple market sectors.
Kieron Salter, CEO and founder of KWSP, said: "This new integrated material and process capability represents a major step change in the UK ceramics industry - acting as an enabler for increased uptake of ceramic AM in the UK and leading to higher levels of confidence and investment. This will boost the productivity and competitiveness of the partners in the project and maintain the UK AM sector's leading position."
Already in progress, the CerAMake project is due to be completed by November 2021.
» Learn more about the project here
April 2019