Lucideon's first attendance as an exhibitor at in-cosmetics was a huge success!
Our stand attracted a lot of attention from industry stalwarts, thanks to the sterling work of our team at the event – massive thanks to Mark Cresswell, Chris Watts and Adam Griffiths for putting on the show.
We highlighted our formulation-based support services, including our marketing claim support and predictive formulation modelling capabilities. As a cross-industry materials consultancy we have a lot to bring to the table for the cosmetics industry, and we're looking forwards to demonstrating that for years to come.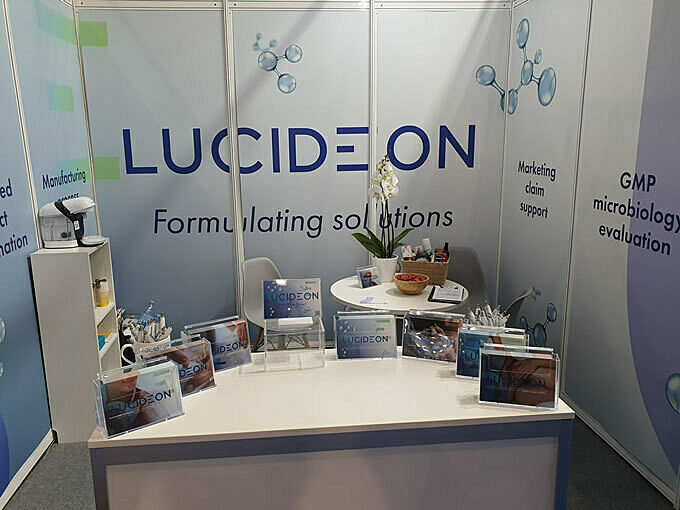 How is Lucideon using materials science to help cosmetics companies?

Lucideon's appeal to the cosmetics industry is a distillation of our years of materials science and microbiology experience. We've learned that by integrating our microbiology, imaging, materials, and formulation development teams, we enable the development of true partnerships bringing value to our clients' R&D and product development projects.
In challenging or innovative areas, we're experts at drawing from talent across our whole business to help our clients break new ground. By focusing on delivering a personalised solution to your challenge, we take on the most complex issues and solve them with creative problem solving and out-of-the-box thinking.
We can assist with analytical method development, using our decades of experience in testing to rigorous standards to go above and beyond in developing novel methods, validating them appropriately and showing exactly what your product can do. We can also help you with product reformulation and manufacturing process optimisation, with the goal of enhancing product functional performance and driving manufacturing cost efficiency.
Our list of capabilities goes on and on – GMP microbiology evaluation, predictive formulation modelling that can save you time and money in refining products, marketing claim support so that you can shout to the world about what makes your offering stand out. This is by no means an exhaustive list, so get in touch with our team at formulation@lucideon.com to see how we can help you to tackle your challenges and transform your products.
May 2023