A case study has been published detailing the successful completion of a recent collaboration with Cameron Ketyer at Johnson & Johnson Consumer Inc., and EM Analytical Ltd.
The project assessed the effect of LISTERINE® Coolmint Antiseptic on oral opportunistic microorganisms. Traditionally, bacterial kill assessments are performed through quantitative standard methods, which only show one part of the story. Through the use of SEM and TEM microscopy, the impact of the antiseptic mouthwash on the growth and viability of the target microorganisms was visualised by Lucideon's Microbiology team.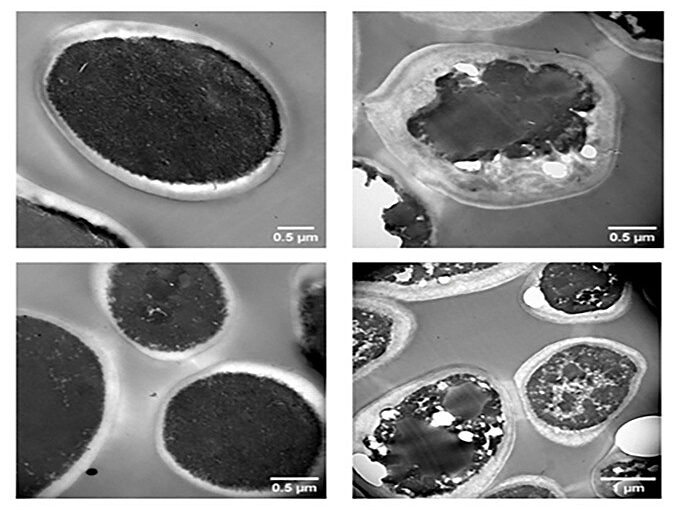 This work was an excellent opportunity to demonstrate our ability to visualise the effects of products on aerobic and anaerobic microorganisms. The resulting images are an evocative and effective display of product efficacy, quickly and intuitively expressing the product's antimicrobial qualities in a single image and complementing quantitative assessments of the mouthrinse.
Visually representing the effects of products that function on a microscopic scale is a fantastic way of bringing our clients' products to life, and promoting the concept of science that sells.
Congratulations and well done to everyone involved with the project. As a demonstration of our microbiological expertise, it showcases our ability to apply proven microbiology methods to unique and innovative projects and applications.
Johnson & Johnson Consumer Inc., the maker of LISTERINE® Coolmint Antiseptic, is a subsidiary of Kenvue.
Contact Mark Cresswell, Business Manager Formulations, to request a copy of the case study: mark.cresswell@uk.lucideon.com.
August 2023