You are here: Home » Healthcare » Wound & Tissue Repair » Bioactive Materials
Bioactive Materials
With added functionality, bioactive materials can help to speed the healing process, improve integration of materials with the body, and decrease adverse events, making wound care more effective and increasing patient comfort.
We develop technologies that can be incorporated into advanced materials to promote bioactivity.  Working with industry partners our technologies are introduced to products to increase functionality, help integration with the body and promote natural biological regrowth and repair.
We work with our partners to facilitate their own research and development projects.  We help you with materials selection, characterization, performance measurement and claim substantiation, to name a few.
Improving Bioactivity of Hydroxyapatite
We are actively engaged in developing novel and simplified methods for the synthesis of hydroxyapatite (HA) substituted with multi-elements (MxHA).  This new technology allows us to design the surface charge potential of the HA crystals and add intrinsic functionality and improved bioactivity to the material through the incorporation of different elements.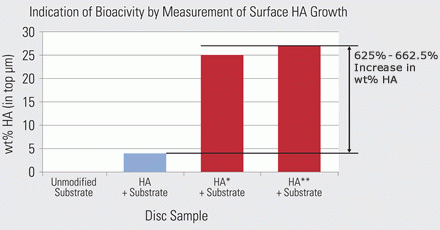 Applications:
Bone and dental replacement applications
Bioactive adhesives/cements
Drug delivery systems
Encapsulation
Fillers.