You are here: Home » Healthcare » Technologies » iCRT
iCRT
Inorganic Controlled Release Technology
The iCRT platform is a diverse series of inorganic materials developed by us to cater for the healthcare industry's key challenges. Our platform offers drug delivery solutions, formulation development tools for cosmetics and personal care, and novel materials for medical devices.
At Lucideon, we can manipulate materials via novel manufacturing processes and compositions to deliver the chemical and physical properties that your product needs.
So our materials are not only unique but we know exactly how to tailor them to suit your product and objectives.
Utilizing our iCRT platform means you can:
Control the release of actives
Protect functional ingredients
Optimize and add features to products
Improve formulation stability
Increase bioactivity of medical materials
And much more…
Our key ICRT platform applications can be used for:
Pharmaceuticals
Medical devices
Consumer products.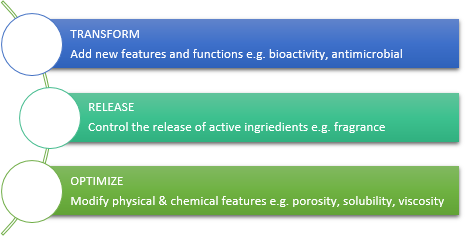 Learn about our other technology platforms