You are here: Home » Healthcare » Pharmaceuticals » Abuse Deterrence
Abuse Deterrence
Abuse of pharmaceutical products is costing the industry and governments vast amounts of money and causing serious sociological issues.  Our abuse deterrence platform offers a carrier that protects against abuse methods including: dissolution in most common household solvents, heating and mechanical tampering.
iCRT-deter
We make addictive and high dose formulations abuse deterrent using our iCRT-deter formulation technology, which deters both intentional abuse and accidental misuse.
Tackling forms of oral, intravenous and nasal abuse, the technology is designed to deter various known methods of tampering and extraction.  It can also protect patients from accidental dose-dumping caused by alcohol consumption.
Tailor-Made
The technology is highly flexible and can be modified depending on your product and application requirements.  It can be used in conjunction with other technologies such as antagonists, and is suitable for both oral and sub-lingual drug products.  As it is a powder technology with good flow properties, it is easily formulated into existing products.
Key Approaches Include: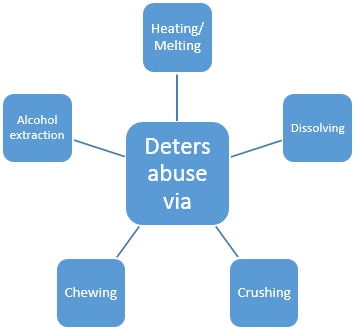 Get in touch to find out more about how iCRT-deter can help you market safer, more effective products.